Analog Earth Resistance: AER-13505
Digital Earth Resistance: DER-13520
Analog Earth Leakage Tester: AEL-13810
Digital Earth Leakage Tester: DEL-13820
Analog Insulation Testers: AIT-13503 | AIT-13504 | AIT-13800 |
Digital Insulation Testers: DIT-03200 | DIT-13210 | DIT-13212 | DIT-13550 | DIT-13804
| | |
| --- | --- |
| DER-13520: Digital Earth Resistance Tester | |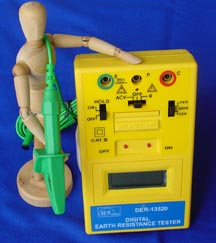 FEATURES:
Capable of measuring earth voltage
2mA measuring current permits earth resistance tests without tripping earth leakage current breakers in the circuit under test.
Battery operated
Auto power off function. The time operates automatically about 3 minutes when the "PUSHBUTTON SWITCH" and "TIMER ON BUTTON" are pressed at the same time to keep the tester power on.
Data hold function
Open circuit indication: LED(red) indication when connection with test leads are all correct
Small and light weight
Designed to meet IEC-1010 (EN61010) safety standard.
SPECIFICATIONS:
Measurement system: Earth resistance by constant current inverter. 800 Hz, 2 mA approx.
Earth Voltage: 0 ~ 200 V AC, 40 ~ 500 Hz. Accuracy:
Copyright 2000-2013 Sun Equipment Corporation. Prices and specifications are subject to change without notice