Analog Earth Resistance: AER-13505
Digital Earth Resistance: DER-13520
Analog Earth Leakage Tester: AEL-13810
Digital Earth Leakage Tester: DEL-13820
Analog Insulation Testers: AIT-13503 | AIT-13504 | AIT-13800 |
Digital Insulation Testers: DIT-03200 | DIT-13210 | DIT-13212 | DIT-13550 | DIT-13804
| | |
| --- | --- |
| AER-13505: Analog Earth Resistance Tester | |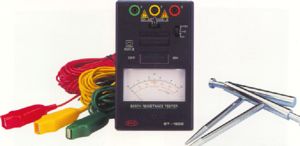 Features:
LED(red) indication when connection with test leads are all correct.
The timer operates automatically about five minutes when the "PUSHBUTTON SWITCH" and "TIMER ON BUTTON" are pressed at the same time to keep the tester power on.
Battery life indicator.
Specifications:
Measuring ranges: Earth resistance 10/100/1000 W
Earth voltage 30V AC(5K W/V approx.).
Earth resistance within
Copyright 2000-2013 Sun Equipment Corporation. Prices and specifications are subject to change without notice