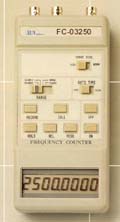 Features :
*High sensitivity for the VHF & UHF freq. measurement, useful for the CB amateur
* Wide measuring range up to 2.6 GHz
* Good resolution, 0.1 Hz min. display unit for 10 MHz range
* Exclusive microprocessor IC offers the intelligent functions: Frequency, Period, Multiresolution, Data Hold, Relative Measurement, Data Record( Max. Min. Average reading)
* LCD display for low power consumption & clear read-out even in bright ambient light condition.
* Auto power off and manual power off.
* Optional telescoping antenna accessory can be used to pick up transmit frequencies from portable or fixed radios such as : polices, fire fighters, HAM, Taxi, Aircraft etc.
Specifications:
Display
0.5 " LCD , 8 digits
Measurement
Frequency, Data Hold, Relative, Data Memory (max. min. average), Period
Range
Frequency :
2500 MHz
50 MHz to 2500 MHz (typical max. 2600 MHz)
500 MHZ
10 MHz to 500 MHz
10 MHz
10 Hz to 10 MHz
Period
10 Hz to 10 MHz
Typical Sensitivity

<= 50 mVrms
Period
<= 50 mVrms
Accuracy
+ (1 PPM + 1 d)
Time Base Circuit
4.194 quartz crystal
Over Input

2500 MHz ~ 500 MHz range- Max. 5 V peak to peak

10 MHz & Period range- Max. 250V peak to peak

Power Supply
4 x 1.5 V AA(UM-3) Battery
AC Adapter Power Input
Optional 9V DC, 300 to 500 mA rating
Power Consumption

About DC 45 ma - 10 MHz & Period Range

About DC 105 ma - 2500 MHz ~ 500 MHz Range

Standard Accessory
Instruction Manual
Optional Accessories

AT-20: Telescoping RF pickup antenna with BNC connector

PB-21: Direct probe with BNC connector & alligator clip pairs

Dimensions
6.8" x 3.1" x 1.4"
Weight
0.25 lb