Digital Clamp Meters: | CLM-03055 | CLM-01600 | CLM-01620 | CLM01660|
Analog Clamp Meters: | ACM-13000 || ACM-13375 | ACM-13600 |
| | |
| --- | --- |
| ACM-13000: AC Clamp-on Meter | |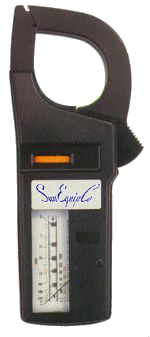 FEATURES
Designed for measuring AC current, AC voltage and resistance.
Top 1000A range designed for high level electrical engineering applications.
Rotary scale which presents only one scale in the window at one time to avoid any possible reading errors.
Pointer lock function freezes the reading in dimly lit or hard to reach places.
Water-Drop Shape Core Jaws makes it easier to clamp the conductor in crowed environments.
Ohm range ideal for checking the continuity of relays, transformers and motor coils.
SPECIFICATIONS
Ranges-.
ACA 10/30/100/300/1000 A
ACV 150/300/750V
Resistance 2 K W center reading at 20 W
Accuracy:
AC Current
Copyright 2000-2013 Sun Equipment Corporation. Prices and specifications are subject to change without notice