| | |
| --- | --- |
| PAL/ Bar Pattern Generator: CPG-1367A | |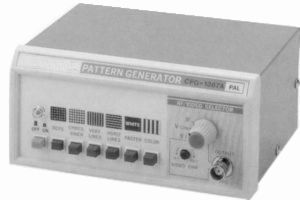 Description
CPG-1367A is designed for repairing and adjusting any defect on TV set in PAL system. The RF range is covering from VHF CH3-CH4. and including color pattern, white raster and four basic patterns. The unit is used of IC circuit, air variable capacitor inner turner and crystal controlled progressive scanning circuit. The designs of cute and portable type make CPG-1367A an efficient instrument for TV set servicing Industry.
Features
The employment of IC achieves high stability and accuracy. With color pattern for testing PAL system TV color circuit.
Four basic patterns such as dots, square-crosshatch, vertical lines and horizontal lines for testing and adjustment of TV circuit.
White rester pattern is used for testing purity and white balance.
Battery or AC adapter operation.

Specifications
RF Ranges
PAL-B.D.G.H.H.I.K. System, IF 38 ~ 40MHz , Preset IF = 38.9MHz, VLow =55.25MHz, VHigh = 175.25MHz
RF Output Level: l0mVrms

Impedance: 75 W
Synchronizing Signals
X'TAL, Vertical 50.036Hz, Horizontal 15.611KHz
Sub-Carrier Freq
4.43361875MHz + 50Hz
Patterns
1. Color, splitted into upper and lower portions.
Upper half: Red, Blush-green, Blue, Greenish-yellow, whit; Lower half: four Gray, Black.
2. Dots 19(V) x 15(H) White.
3. Crosshatch 19 x 15 square, white.
4. Vertical Lines 19 white.
5. Horizontal Lines 15 white.
6. Rasters Fixed 100 % Brightness white.
Video output (BNC)1 Vp-p (open end)
Power Requirements
Battery AA-3 x 6 or
7 -10 V AC Adapter
Dimensions & Weight
160(W) x 83(H) x 125(D)mm
Approx. 0.8kg
© Copyright 2000-2012 Sun Equipment Corporation. Prices and specifications are subject to change without notice