Analog Insulation Testers: | AIT-13503 | AIT-13504 | AIT-13800 |
Digital Insulation Testers: | DIT-03200 | DIT-13210 | DIT-13212 | DIT-13550 DIT-13804 |
| | |
| --- | --- |
| Digital Insulation Tester: DIT-13212 (0.5KV ~10KV, 0.5KV increment) | |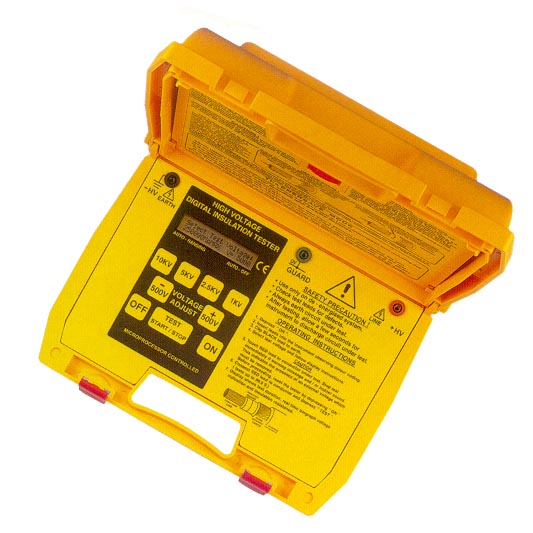 FEATURES :
*Insulation test voltages (500V ~ 10000V).
*Insulation resistance, autorange on all ranges.
*Bargraph indicates test voltage, delay can be observed during discharge.
*Measures insulation discharge test time.
*Display warning of external voltage.
*Fully protected crow bar.
*Heavy duty carry case
* EEPROM Calibration
*IEC 1010 CAT III
SPECIFICATIONS:
Insulation Voltage: 1000 ~ 10000 V (500 V increment)
Insulation Range: 50/125/250/500 GW ( Auto-Ranging)
Operating Temp.(degree C): 0 ~ 40
Live Warning: >500 V
Power Source: 6x 1.5V 'C' Alkaline Batteries
Humidity: 85 %
Accuracy: Insulation Resistance: + 5% of rdg + 1dgt
Dimensions: 330(L) x 200(W) x 150(D) mm
Weight: 3600g
Accessories: Test Leads, Instruction Manual, Alkaline Batteries.
Copyright 2000-2013 Sun Equipment Corporation. Prices and specifications are subject to change without notice