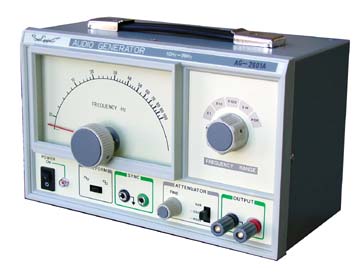 Description
The oscillation frequency range of this Audio Generator is usually between voice frequency band and super voice frequency band. Its main function is to measure the characteristics of Audio Circuit. A higher performance Audio Generator is definitely able to meet the demands of a versatile environment. AG-2601A is a portable type Audio Generator with 600 ohm output impedance, all band voltage floating +1dB, low distortion output wave from 0.05%, high output voltage, stable oscillation circuit loop and minimum frequency floating.

Features
High frequency stability: within + 2Hz.
Output Voltage Floating: within + 1.5dB
Sine wave signal output: more than 8 Arms.
Equipped with synchronized input terminal of signals enables the high power output signals to be accurately controlled by small signals.

Specifications
Frequency Range: 10Hz ~1 MHz 5 decade bands


Accuracy: 10Hz ~1MHz + (5% + 2Hz) 100Hz ~100KHz + (3% + 2Hz)

Output Impedance: 600 W unbalanced

Output Control: 0dB/-20dB/-40dB and Fine adjuster.
Sine Wave Output
Range: 10Hz ~ 1MHz
Output Voltage: 8Vrms, max.
Output Distortion: Less than 0.05% 500Hz ~50KHz, Less than 0.5% 50Hz ~ 500KHz
Output Flatness: + 1.5dB (1 KHz)
Square Wave Output
Range 10Hz ~ 100KHz
Output Voltage: 15Vp-p or more
Rise Time 0.5 uS

Synchronization

Range: +1 % of oscillator frequency per Vrms.
Input Impedance:Approximately 10 KW
Maximum Input: 10Vrms
Power Requirement: AC 115/230V + 10%, 50/60Hz, 3VA
Dimensions & Weight: 150(H) x 250(W) x 130(D)mm, Approx.2.5kg
Accessories: Test lead 1 Ground lead 1