Wow Flutter Meter: WF-3103A | WF-3105A
| | |
| --- | --- |
| Wow Flutter Meter: WF-3105A | |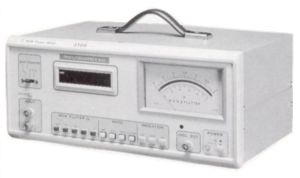 Description

The 3105A Wow & Flutter Meter is designed with a built-in frequency counter, the 3105A can indicate the tape speed in frequency (kHz) and deviation (%) simultaneously with measurement of the Wow/Flutter
Specifications
Input Frequency
3 kHz + 10% JIS/CCIR
3.l5 kHz + 10% DIN
Input Voltage Range
l5mV ~ 10 Vrms
Input Impedance
300 K Ohms Unbalanced
Measurement Range:
0.03 / 0.1 / 0.3 / 1 / 3% Full Scale in 5 Ranges
Accuracy
Within + 5% of Full Scale.
Indication
Peak Value Indication CCIR/DIN
RMS Value indication JIS.
Speed Display
6 Digits LED.
Accuracy
+ Time Base Accuracy +1 Count.
Signal Source for Recording
3KHz and 3.15KHz + 0.05%
Output Terminal
Output of drift and output of oscilloscope and recorder.
Frequency Counter
10Hz ~ 9.99MHz
Gate Time
0.1 Sec, 1 Sec.
Power Requirement
AC115V/230V + 10% 50/60 Hz
Approx. 18VA
Dimensions & Weight
280(W) x 220(H) x 226(D) mm
Approx. 5kgs
© Copyright 2000-2012 Sun Equipment Corporation. Prices and specifications are subject to change without notice