| | |
| --- | --- |
| Automotive Digital Multimeter: ADM-9830 | |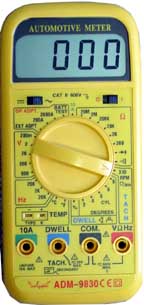 Features:
* Multifunction measurement: DCV,ACV, DCA, ACA,OHMS, Temperature, Hz, RPM, Dwell Angle, Diode, Continuity Beeper.
* RPM (TACH) measurement with inductive pickup for more convenient & accurate readings of both conventional and distributorless DIS ignitions.
* Accurate DCV/ACV (20A max.) and resistance for a wide range of automotive electronic tests.
* Duty cycle(%) with Dwell conversion chart for electronic fuel injection and feedback carburetors.
* Diode test quickly measures the forward bias voltage drop of alternator rectifiers and other diodes.
* 10 Megohm impedance protects sensitive computer circuits.
* Frequency measurements with adjustable trigger point for testing MAF, MAP, & ABS sensor.
* Build-in overload protection for most ranges.
* Type K Temperature Probe (TP-03001) included
* Inductive Pick up (IP-03007) included
Specifications:
DC Voltage

Range

Accuracy

Resolution

Input Impedance

200mV

+/_ (0.5 % +1d)

100 mV

10 MW

2V

+/-(0.8%+1d)

1mV

20V

10mV

200V

100mV

1000V

1V

AC Voltage

Range

Accuracy

Resolution

Input Impedance

200mV

+/-(1%+2d)

100 mV

10MW

2V

1mV

20V

10mV

200V

100mV

750V

1V

Resistance

Range

Accuracy

Resolution

Open Circuit Voltage

200W

+/-(1%+3d)

0.1W

3V Max.

2KW

+/-(0.8%+1d)

1W

Approx. 0.3V Max.

20KW

10W

200KW

+/-(2%+2d)

100W

2MW

1KW

20MW

10KW

AC/DC Current

Range

Accuracy

Resolution

Input Impedance

10A

DAC: +/-(1.5%+2d)

10mA

ACA: AC 200mV

ACA: +/-(1.5%+3d)

DCA: DC200mV

TACH

Range

Resolution

Accuracy

Overload Protection

500 ~ 10K RPM

10 RPM

+/-(1.2%+1d)

24V DC/AC RMS (within 1 min.)

Dwell Angle

Cylinder

Range

Resolution

Accuracy

3 CYL

0 ~ 120
?Copyright 2000-2014 Sun Equipment Corporation. Prices and specifications are subject to change without notice