| | |
| --- | --- |
| ERE-17121A : EPROM ERASER | |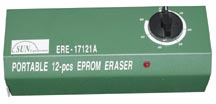 Introduction
Combine well performance and low cost, SEC provides EPROM ERASER. ERE-17121A that accommodates 12 devices (24-pin x 0.6"), and suits for small developing environment.
Feature
* Equipped with electronic starter, extends the life of UV tube
* The timer can be set from 0 to 60 minutes
* Powerful UV tube, all ICs are ensure for maximum UV exposure.
* Protect users form UV exposure by equipped with automatic UV shut off switches when opening the device drawer
* Have LED on the top panel to indicate UV tube status
*Provides almost completely erase area
*