PLC-1032LS: PLC Control Lab (I)-Basic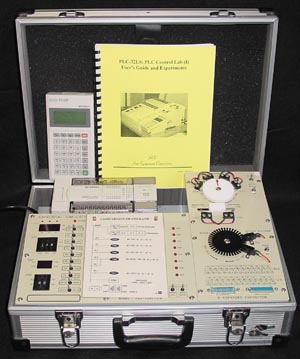 I.FEATURES :
1. THIS DEVICE INCLUDES BASIC EXPERIMENT UNITS AND CAN BE EXPANDED TO THE ADVANCED CONTROL SYSTEM. COMPACT DESIGN MAKES IT EASY TO BE HANDLED IN A LAB, PARTICULARLY, FOR SCHOOLS WITH LIMITED LAB SPACE.
2. CIRCUIT DIAGRAMS AND/OR CHARTS ARE SILK-SCREEN PRINTED ON THE EXPERIMENT DEMO CARD. EXPERIMENT INSTRUCTIONS ARE EASY TO FOLLOW.
3. ALL THE TEST POINTS AND CONNECTION TERMINALS ARE BROUGHT OUT ON THE FRONT FOR EASY ACCESS AND CONNECTION.
II. BASIC KNOWLEDGE AND EXPERIMENTS
A. LEARNING SEQUENTIAL FUNCTION CHART (SFC)
1. SFC AND STL (STEP LADDER) INTRODUCTION
2. BASIC SEQUENCE INSTRUCTION
3. READING SFC CHARTS
4. SFC CHART CONSTRUCTION PRINCIPLE
5. PLC PROGRAMMING
6. OPERATION MODES
B. PLC RELAYS AND TIMERS
1. INTRODUCTION TO PLC
2. PLC INSTRUCTION SETS
3. PROGRAM EXAMPLES
C. PLC APPLIED INSTRUCTIONS
1. DIGITAL DATA CONVERSION
2. MOVE AND COMPARE
3. ARITHMETIC AND LOGICAL OPERATIONS
4. TIMERS
5. COUNTER
6. HIGH SPEED PROCESSING
7. DATA OPERATION
8. PROGRAM EXAMPLES
III. HARDWARE SPECIFICATION
A. CONTROL UNIT
1. MITSUBISHI PLC FX3U-32M, 16 INPUTS AND 16 OUTPUTS.
2. OUTPUT EXTENSION UNIT FX2N-8EYR-ES, 8 OUTPUTS.
B. CONTROL PANEL
1. 7-SEGMENT DISPLAY, 3-DIGIT AND 2-DIGIT
2. THUMB WHEEL SWITCH, 3-DIGIT AND 2-DIGIT.
3. TOGGLE SWITCH: B-2 (0.4VA), B-18 (0.4VA), AND B-19 (0.4VA), TWO PIECES EACH.
4. OUTPUT LEDs, 16 PIECES.
5. CIRCUIT EXPERIMENT CARDS, 4 PIECES.
C. MOTOR CONTROL UNIT
1. DC MOTORS AND SPEED REDUCERS, 2 PIECES EACH.
a. SPEED REDUCTION RATIO: 1000: 1.
b. DC 24V.
2. LIMIT SWITCHES, 6 PIECES.
3. TOGGLE SWITCHES, 3 PIECES.
D. INPUT UNIT

1. PLC PROGRAMMER HANDHELD,MITSUBISHI FX-20P.
E. PLATFORM
1. BASE PLATFORM
a. MATERIAL: STEEL PLATE.
b. SIZE: 500mm(W) x 400mm(D) x 23mm(H),
2. CONTROL UNIT PLATFORM
a. MATERIAL: STEEL PLATE.
b. SIZE: 206mm(W) x l35mm(D) x 63mm(H),
3. CONTROL PANEL PLATFORM
a. MATERIAL: STEEL PLATE.
b. SIZE: 290mm(W) x l95mm(D) x 115mm(H),
4. MOTOR UNIT PLATFORM
a. MATERIAL: STEEL PLATE.
b. SIZE: 150mm(W) x l55mm(D) x 2mm(H),
5. INPUT UNIT PLATFORM
a. MATERIAL: STEEL PLATE.
b. SIZE: 90mm(W) x 200mm(D) x 100mm(H),
IV. INTRODUCTION TO FUNDAMENTAL COMMANDS
LD, LDI, OUT, NOP, SP, END
AND, ANI, ORI,
ORB, ANB,
PLS, PLF,
SET, RST,
V. EXPERIMENTS
1. FOUNTAIN CONTROLS
2. REFLEX INDICATOR CIRCUIT
3. COMPARISON OF OPERAND
4. FEEDER LOW-LEVEL DETECTION ALARM
5. OFF DELAYED TIMER
6. TRAFFIC LIGHTS CONTROLS
7. PULSE OUTPUT & ALTERNATING CIRCUITS

(Click here for Detailed Specifications on PLC-1032LS)
© Copyright 1995~2012 Sun Equipment Corporation. All rights reserved Prices and specs are subject to change without notice.