PLC-1032LM: PLC Control Training System (II)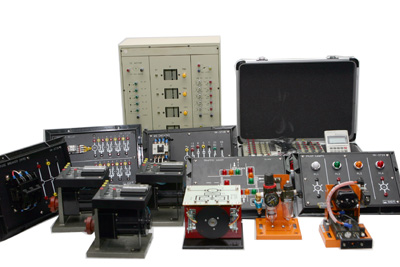 FEATURES
1. THIS DEVICE INCLUDES BASIC EXPERIMENT UNITS AND CAN BE EXPANDED TO THE ADVANCED CONTROL SYSTEM. COMPACT DESIGN MAKES IT EASY TO BE HANDLED IN A LAB, PARTICULARLY, FOR SCHOOLS WITH LIMITED LAB SPACE.
2. CIRCUIT DIAGRAMS AND/OR CHARTS ARE SILK-SCREEN PRINTED ON THE EXPERIMENT DEMO CARD. EXPERIMENT INSTRUCTIONS ARE EASY TO FOLLOW.
3 .ALL THE TEST POINTS AND CONNECTION TERMINALS ARE BROUGHT OUT ON THE FRONT FOR EASY ACCESS AND CONNECTION
EXPERIMENTS
1. MOTOR START, STOP, AND OVERLOAD CONTROL
2. MOTOR CONTROL IN TWO PLACES
3. 3f MOTOR FORWARD/REVERSE CONTROL
4. MOTOR PRIORITY CONTROL
5. MOTOR CONTINUOUS AND PULSE OPERATION CONTROL
6. MOTOR AUXILIARY START/STOP CONTROL
7. MOTOR Y-D START CONTROL
8. DELAY TIMER RELAY CIRCUIT
9. MOTOR OVERLOAD WARNING CIRCUIT
10. MOTOR FORWARD/REVERSE WITH YD START CONTROL
11. AUTOMATIC WATER PUMP WITH AUXILIARY CONTROL
12. AUTOMATIC STARTING CONTROL OF A STANDBY MOTOR
13. MOTOR START/STOP/INTERRUPTION MEMORY CIRCUIT
14. COUNTER CIRCUITS
15. COUNT DOWN / UP COUNTER CIRCUITS
16. COUNTER AND TIMER EXTENSION CIRCUIT
17. CAR WASH CONTROL CIRCUIT
18. EMERGENCY STOP AND POWER INTERRUPT PROTECTION
19. LIGHTS CONTROL (I)
20. LIGHTS CONTROL (II)
21. LIGHTS CONTROL (III)
22. LIGHTS CONTROL (IV)
23. LIGHTS CONTROL (V)
24. TRAFFIC LIGHT CONTROL (I)
25. TRAFFIC LIGHT CONTROL (II)
26. PNEUMATIC CYLINDER WITH MAGNETIC REED SWITCH
27. PNEUMATIC CYLINDER WITH LIMIT SWITCH
28. PNEUMATIC CYLINDER WITH PROXIMITY SWITCH
29. PHOTOINTERRUPTER AND COUNTER CONTROL (I)
30. PHOTOINTERRUPTER AND COUNTER CONTROL (II)
31. ROTARY ENCODER AND MOTOR CONTROL
32. 2-FLOOR ELEVATOR CONTROL (I)
33. 2-FLOOR ELEVATOR CONTROL (II)
34. 3-FLOOR ELEVATOR CONTROL (I)
35. 3-FLOOR ELEVATOR CONTROL (II)
36. 4-FLOOR ELEVATOR CONTROL (I)
37. 4-FLOOR ELEVATOR CONTROL (II)
38. 5-FLOOR ELEVATOR CONTROL (I)
39. 5-FLOOR ELEVATOR CONTROL (II)
40. ROTARY ENCODER AND MOTOR SPEED DETECTION CONTROL
Hardware Specifications
A. MAIN PANEL FRAME
B. DUAL DC POWER SUPPLY
(1) VOLTAGE: 0-30V.
(2) CURRENT: 1A.
(3) CONSTANT VOLTAGE AND CONSTANT CURRENT
(4) OVERLOAD PROTECTION.
C. MODULE BOARD
1. USING COMBINATION OF SMALL COMPONENT AND MODULE BOARDS FOR EXPERIMENTS.
2. BOARD SIZE: Type-A: .80m x 1.50m, Type-B: 1.6m x 1.6m, WHITE COLOR.
Type-M: 13.4"/.34m (W) x 9.45"/.24m(H) x 1.9"/.048m (D).
, PLASTIC EXTRUSION, BLACK COLOR, 3mm THICK.
D. CONTROL UNIT
1. MITSUBISHI PLC FX3U-32M, 16 INPUTS AND 16 OUTPUTS.
2. OUTPUT EXTENSION UNIT FX2N-8EYR-ES, 8 OUTPUTS.
E. CONTROL MODULES
1. PUSH BUTTON SWITCHE MODULE
2. MAGNETIC SWITCHE MODULE
3. RING LIGHT MODULE
4. TRAFFIC LIGHT MODULE
5. INDICATOR LAMP MODULE
F. MOTOR AND CONTROL ELEMENTS
1. AC INDUCTION MOTOR, 3 PIECES
2. LIMIT SWITCHES, 2 PIECES.
3. PROXIMITY SWITCH.
4. POWER RELAY
5. 3-POINT ASSEMBLY
6. MAGNET REED SWITCH.,4 PIECES.
7. PNEUMATIC CYLINDER.
8. PNEUMATIC DIRECTION VALVE, 2 PIECES.
9. ROTARY ENCODER MECHANISM
10. ELEVATOR .
G. PLATFORM
1. BASE PLATFORM
a. MATERIAL: STEEL PLATE.
b. SIZE: 500mm(W) x 400mm(D) x 23mm(H),
H. CONNECTION WIRES
1. EXTRUDED HERMAPHRODITIC BANANA PLUGS, STANDARD 1.6"/ 4mm DIAMETER.
2. TOTAL 30 WIRES OF LENGTH 7.9"/ .2M, 31.5"/ .8M AND 59"/ 1.5M.
I. MODULE BOARD STORAGE BOX (OPTIONAL)
SIZE: 14.6"/.37M(W) x 21.7"/.55M(H) x 9.8"/.25M(D)
J. EXPERIMENT MANUAL
ENGLISH, COPYRIGHTED IN USA.
K. POWER
AC 110V/220V +/- 10%, 60/50Hz.

(Click here for Detailed Specifications on PLC-1032LM)
© Copyright 1995~2012 Sun Equipment Corporation. All rights reserved Prices and specs are subject to change without notice.