Digital Signal Processing Control Lab: DSP-59000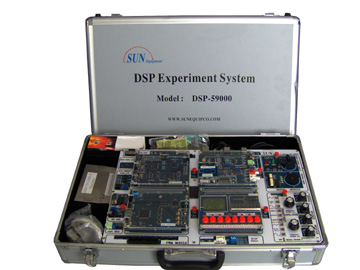 Features:
(1). Dual processors (TMS-320C5416 & TMS-320LF2407)
(2). Built-in audio/video, MP3, Ethernet, Keypad, RS-232/RS-485, temperature control, function generator, PWM , experiment modules
Specifications
(1). TMS320C5416 processor (5416 Module):
a. 4 MB Flash RAM
b. 256K x 16bit SRAM
c. 2500 gate CPLD
d. Power converter
e. Bus driver
f. Bus protection chip
g. JTAG (For the emulator or CCS to download program)
(2). TMS320C2407 processor (2407 Module):
a. 256Kx16bit SRAM
b. 2500 gate CPLD
c. Power converter
d. Bus driver
e. Bus protection chip
f. Dual power design (Analog power & digital power)
g. JTAG (For the emulator or CCS to download program)
(3). Video/ Audio module:
a. High speed AD (TLC5510, 8 bits, Max. sampling rate: 20 MHz)
b. High speed DA (TLC5602, 8 bits, Max. conversion rate: 50 ns)
c. The audio module adopts TLC320AD50C voice processing chip ( Max. sampling rate: 22.05KHz, 16 bits)
d. The module can be used for audio I/O and video I/O

(4). MP3/ Ethernet module: (optional)
a. Audio module adopts the TLV320AIC23B chip (Max. sampling rate: 96 KHz, Data bits 16, 20, 24, 32 are programmable)
b. MP3 module adopts the STA013T chip
c. Ethernet adopts the RTL8019AS chip (Max. transmission rate: 10 Mbps)
d. The module can be used for audio I/O and Network TCP/IP, and MP3

(5). Keypad and display module:
a. 128x64 dot matrix graphic LCD display
b. 8-digit LED display
c. 8 indicator lamps
d. 8 push button inputs

(6). RS-232 communication module:
a. The MAX311ECWI is used for the TMS320C5416 module to communicate with a PC (Transmission rate up to230 Kbps)

(7). RS-485/ CAN communication module:
a. The 2407 module is equipped with RS-485 bus and CAN bus
(8). Temperature, Electrical Machinery control module:
a. DC motor
b. Stepper motor (12V)
c. The thermometer adopts thermal sensor (DS18B20), temperature range (-55C ~ 100C)

(9). Signal source module:
a. Two signal sources with frequency range of 1 Hz ~ 95 KHz
b. Frequency and amplitude of the sinewave are adjustable
c. A built-in circuit to combine signals from the two sources
(10). PWM frequency conversion module:
a. It provides PWM and CAP interfaces.
b. It is the main interface of the 2407 module for frequency conversion control.
(11). Second development module:
a. ARM7 board with Ethernet interface
b. Wire-less control board with USB and IDE interfaces
© Copyright 1995~2012 Sun Equipment Corporation. All rights reserved Prices and specs are subject to change without notice.