CPLD/ FPGA/ ISP/ 8051 Lab: CFI-491908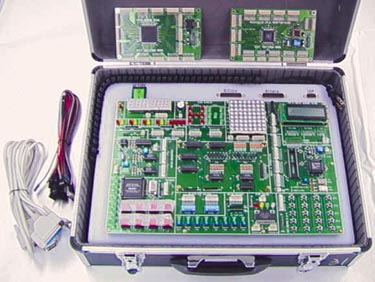 Specifications:
* Supported chip: Altera ACEX 1K (TQFP 144pins) or Xilinx Spartan2 (PQFP 208pins) FPGA on sub-board (You can choose one or both). Uses the software development tool provided by Altera or Xilinx to learn latest logic design.
* AHDL/VHDL and graphic method can be used to develop circuits
* Every I/O pin of ACEX chip has a logic status monitor
* Frequency generator: 1/10/100/1K/10K/100K/1M/10M/20M Hz
* For CPLD/ FPGA, Printer port can be used for downloading
* For 8051, COM1 or COM2 can be used for downloading
* Input units:
Push button with light display x 8 pcs
8-bit DIP switch input x 2 pcs
Pulse generator button x 4 pcs
(Positive edge trigger x 2 pcs, Negative edge trigger x 2 pcs)
5x4 matrix keyboard Circumscribed I/O pins
* Output units:
8*8 bi-color dot matrix LED *1 pc
16 x 2 LED x1 pc
Stepping motor driver interface x 1 pc
7-segment display x 6 pcs
Buzzer x 1 pc
LED output x 16 pcs
Dice led output x 2 pcs
* Linear experiment units:
8-bit D/A converter x 2 pcs
8-bit A/D converter x 1 pc

Experiments
* Counter
* Traffic light control
* Racing light control
* Stepper motor control
* 7-segment display control
* Digital clock control
* DIP switch control
* Push button control
* 8x8 bi-color dot matrix LED control
* A/D experiment
* D/A experiment
* ISP single chip 8051 experiment
* Audio frequency experiment
* Temperature
© Copyright 1995~2012 Sun Equipment Corporation. All rights reserved Prices and specs are subject to change without notice.